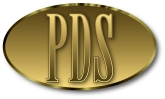 Mission Statement
At Professional Digital Services, Inc. (PDS) we provide web site development that meets the needs of our customers. Using careful customer interaction, the latest web site technology, exceptional graphics, and sustained follow-up, PDS will develop web sites that accomplish the stated needs of our customers.
Who We Are
Formed in 2000, PDS has developed a reputation for creating and maintaining effective web sites. The owners started developing a major content web site soon after internet technology became a viable source of information exchange and business communication and sales. Using their acquired development and technical expertise, the principals of PDS began to take on web site development projects referred to them by those that know their work. Once PDS was formally incorporated, most development projects have come strictly by referral.
PDS has developed a wide variety of projects. Examples include a major shopping center , a bank consulting firm, and an alternative medicine retail web site. PDS has developed a reputation for thoroughly communicating with their clients to find out exactly what they need in a web site. Through follow-up PDS has provided their clients with sustained consultation and web site revision to meet changing needs.
As PDS becomes more sophisticated in web site development, we have created a network of people with expertise in graphics, programming, web site promotion, copywriting, and other important skills needed to make a web site do its job. PDS is moving with the advances in web site development and is positioned to meet your needs.